Founded in 2016, Student Caffé is a free, inclusive resource for current and prospective college students. We believe that higher education should be accessible to anyone who wants to learn. We offer direct and personalized information about four-year colleges and alternative routes to education, including vocational school, community college, online degree programs, military service, and gap years. The Student Caffé website doesn't just serve prospective college students, but follows a student throughout their higher education, from standardized tests and the college search in high school, through the application and financial aid process, to extracurricular activities and student life at college.
While our site mainly focuses on the technical details of preparing and applying for college, affording higher education, enriching student life, and thriving on campus, the Student Caffé blog delves into more lighthearted, but still incredibly useful, details. It uncovers tips, tricks, and secrets to success. Our content is continually being updated and expanded to bring you the most up-to-date information, and we're working on translating the site into Spanish in an effort to be more inclusive and reach a wider audience.
Randy Gervais, Founder
Randy Gervais was selected to become a professional thoroughbred jockey at age 14. His work in the horse racing industry brought him into contact with many educated business leaders who inspired him to become an entrepreneur. Soon after he retired from racing at age 28, Randy opened Royal Productions, an audiovisual business that now services some of the largest companies in the world. Backstage at conferences that are produced by Royal, Randy continues to learn from the men and women who speak about their accomplishments. Their stories motivated him to create Student Caffé, a platform that helps all students gain access to the education needed to become successful in their careers. When Randy is not working, he enjoys spending time with his family, playing basketball, watching horse racing, and working out.
Megan Clendenon, Executive Director
Megan grew up wanting to be a professor, just like her dad. She started small, illustrating children's books with stickers and asking her mom to write out the words, since she hadn't yet learned to write. Later, she co-authored a magazine with her best friend, and they had grand plans to sell it to other children in the neighborhood. Unfortunately, that wasn't her big break. After majoring in geology at her mother's alma mater, Megan went on to work for the National Park Service and eventually decided to return to school to earn her master's degree. As a member of the Jackson School of Geosciences at the University of Texas, she wrote a thesis on how climate change affects water resources. She graduated in 2015 and now happily contributes her skills as a writer to Student Caffé, all past dreams of being a professor gone.

Heidi Fitzgerald, Website Designer and IT Director
With a knack for design and problem-solving, Heidi joined the Student Caffé team as the website designer and IT director. The work satisfies her fascination with puzzles and draws upon her many experiences in art. In fact, her passions for traditional pencil sketching and graphic design developed way back in middle school, and Heidi followed them all the way to Louisiana State University, where she obtained a bachelor's degree in Studio Art and Design. It was there that she branched out to pursue website design through independent studio courses. As she solved coding puzzles and practiced critical thinking, she noticed that the work suited her desire to stretch her brain. In her free time, she can be found working on interactive online projects or practicing her digital illustration skills.
Gwen Niekamp, Editor and Lead Translator
Now Student Caffé's editor and lead translator, Gwen has loved playing with language since the first grade when she wrote her first (tiny) book in English and began learning Spanish. She pursued both languages at Vassar College, where she dabbled in publishing, fact-checking, translation, and teaching. Despite her interest in higher education, Gwen struggled to speak loudly enough to be heard in all corners of the classroom; these days, she much prefers to use her bilingual writing abilities to help students get the information they need—no enunciation involved. For Student Caffé, Gwen reviews articles to make sure they are thorough, current, and grammatically correct. She also translates site content into Spanish and occasionally contributes her own work to the site. On her days off, she manages social media for a literary publication by women and plans extensive trips that she hopes to take in the near future.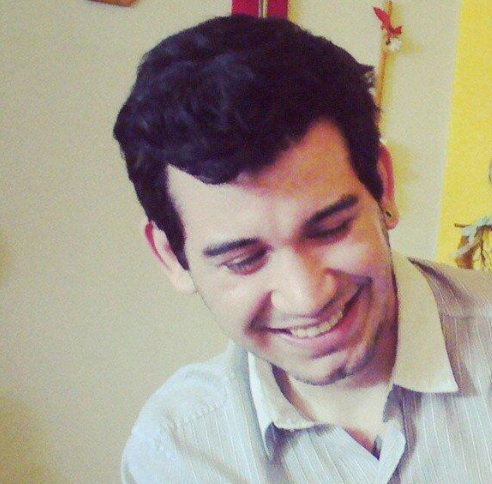 Mauro Schimf, Spanish Editor and Writer 
At a young age, Mauro became fascinated with languages and learned them through play, not taking them too seriously at first. He later realized they are an indispensable tool for communication and keeping your brain active. An English teacher in Argentina, Mauro knows how to engage students by helping them find the easiest and most entertaining ways to learn. He has developed a teaching style that not only helps students understand grammar but also usage. In his free time, Mauro studies Chinese, which he has done for seven years. He enjoys working toward a better world.
Desde temprana edad, Mauro estuvo fascinado con los idiomas y al principio aprendió jugando, sin tomarlos en serio, pero luego se dió cuenta de que son una herramienta indispensable para la comunicación y que mantienen el cerebro activo. Profesor de inglés en Argentina, sabe lo que los alumnos buscan y los ayuda a encontrar la manera más fácil y entretenida de aprender. Desarrolló el estilo que no solamente ayuda a entender gramática, sino también a usarla. Hace siete años que estudia chino en su tiempo libre. Disfruta de involucrarse en todo lo que desarrolle un mundo mejor.