Preparation for Natural Disasters and the Recovery Afterwards
Preparation for Natural Disasters and the Recovery Afterwards
Pixsooz / Shutterstock.com
---
The frequency of and devastation caused by natural disasters is increasing each year due to global warming, urbanization, and population density. In 1970, there were only 78 reported disasters worldwide, while in 2018, there were 282 natural disasters. Over 200 million people are affected by disasters each year. Depending on where you live, you may be at risk of experiencing particular disasters, such as earthquakes, floods, hurricanes, tornadoes, tsunamis, wildfires, or winter storms. Your college will have a plan of action to follow in case disaster strikes and will make students aware of how they should prepare and react. In extreme cases, schools will inform students when and how they should evacuate.
---
Preparing for Natural Disasters
Sign up for emergency alerts.
Often, students can sign up to receive text messages from their schools that will alert them to dangerous weather patterns in the area. These texts will usually notify students about where to go and what to do to stay safe during the emergency. Colleges also send out mass emails to students (and sometimes to parents) in such cases. Students with cell phones may also elect to receive free Wireless Emergency Alerts. The National Weather Service sends these alerts when there is a tsunami, tornado, flash flood, hurricane, typhoon, dust storm, or extreme wind warning, and they briefly explain the situation and the course of action that should be followed. This can be helpful to students who live in areas without sirens in place, as the phone will sound and action can be taken immediately.
Know the difference between a watch, an advisory, and a warning.
When you watch the weather on television, you will often hear the weatherperson say that an area is under a "tornado watch" or a "winter storm warning." It's important to understand the differences in the terminology that is used to describe inclement weather and natural disasters.
A watch typically indicates that conditions are right for a certain type of weather to occur, and that the weather event could occur in the near, but not immediate, future. For example, a hurricane watch is generally issued when there is the possibility of a weather system forming a hurricane within the next 48 hours. A severe thunderstorm watch, however, indicates that conditions are right to create a severe thunderstorm, but there isn't a time limit on it's formation. While a watch signifies that you should be alert and aware of your surroundings, you don't immediately need to seek shelter or prepare to evacuate.
A warning is issued when a weather event is occurring or is imminent. At this time, you should get indoors, seek shelter, or evacuate. Warnings may be accompanied by emergency alerts (over the radio, via text message, and displayed on the television), sirens (particularly in locations that are prone to tornadoes), or another attention-grabbing announcement. Pay attention to warnings; your safety is at risk if you don't follow appropriate procedures.
An advisory splits the difference between a watch and a warning. Unlike when a watch is issued, an advisory indicates that weather is expected to occur. However, the expected weather isn't severe enough to issue a warning; it's more likely to cause inconvenience than to cause dangerous conditions. Advisories are often issued in cases of winter weather, frost, wind, fog, or heat. If an advisory is in effect, be sure that you take the proper precautions (e.g., in the case of a heat advisory, staying hydrated and limiting your time outdoors).
Create an emergency kit.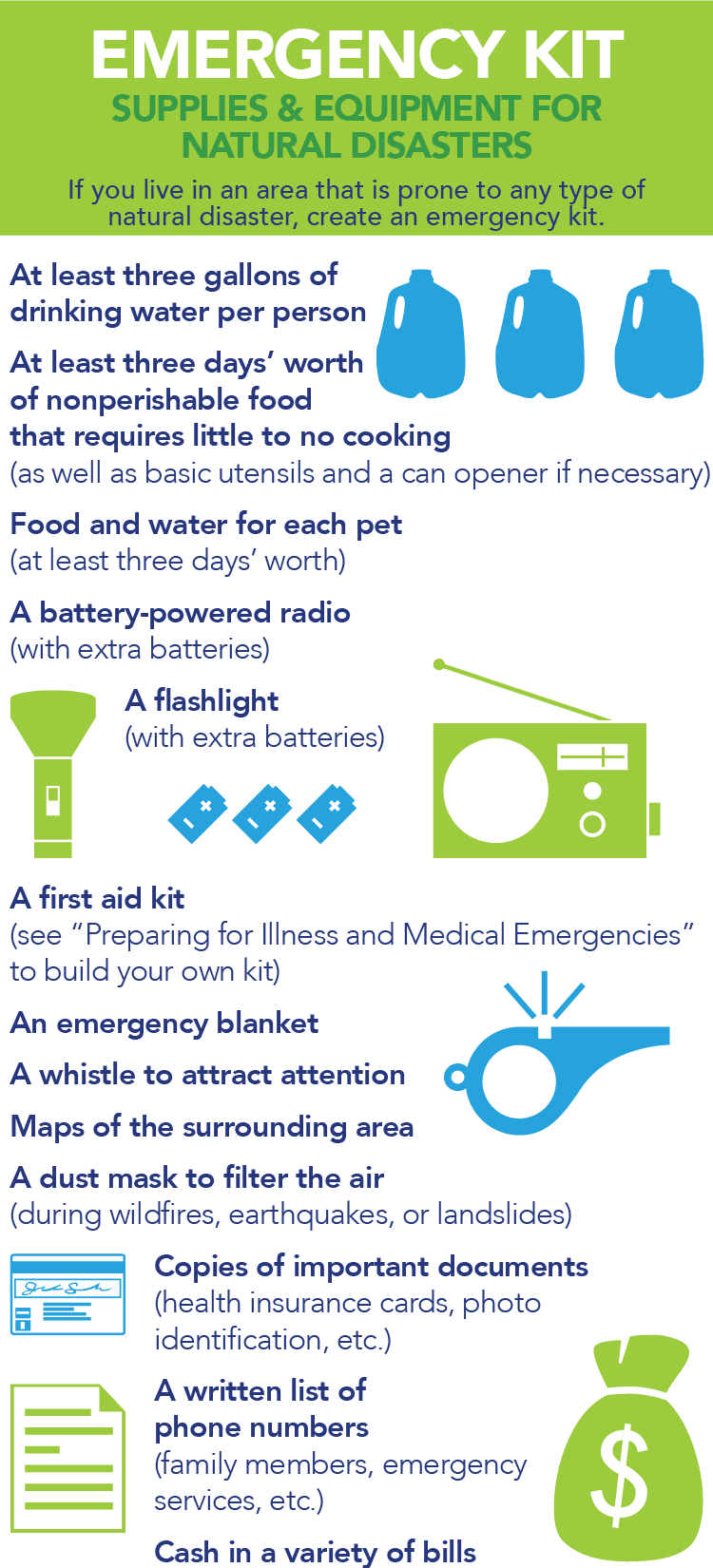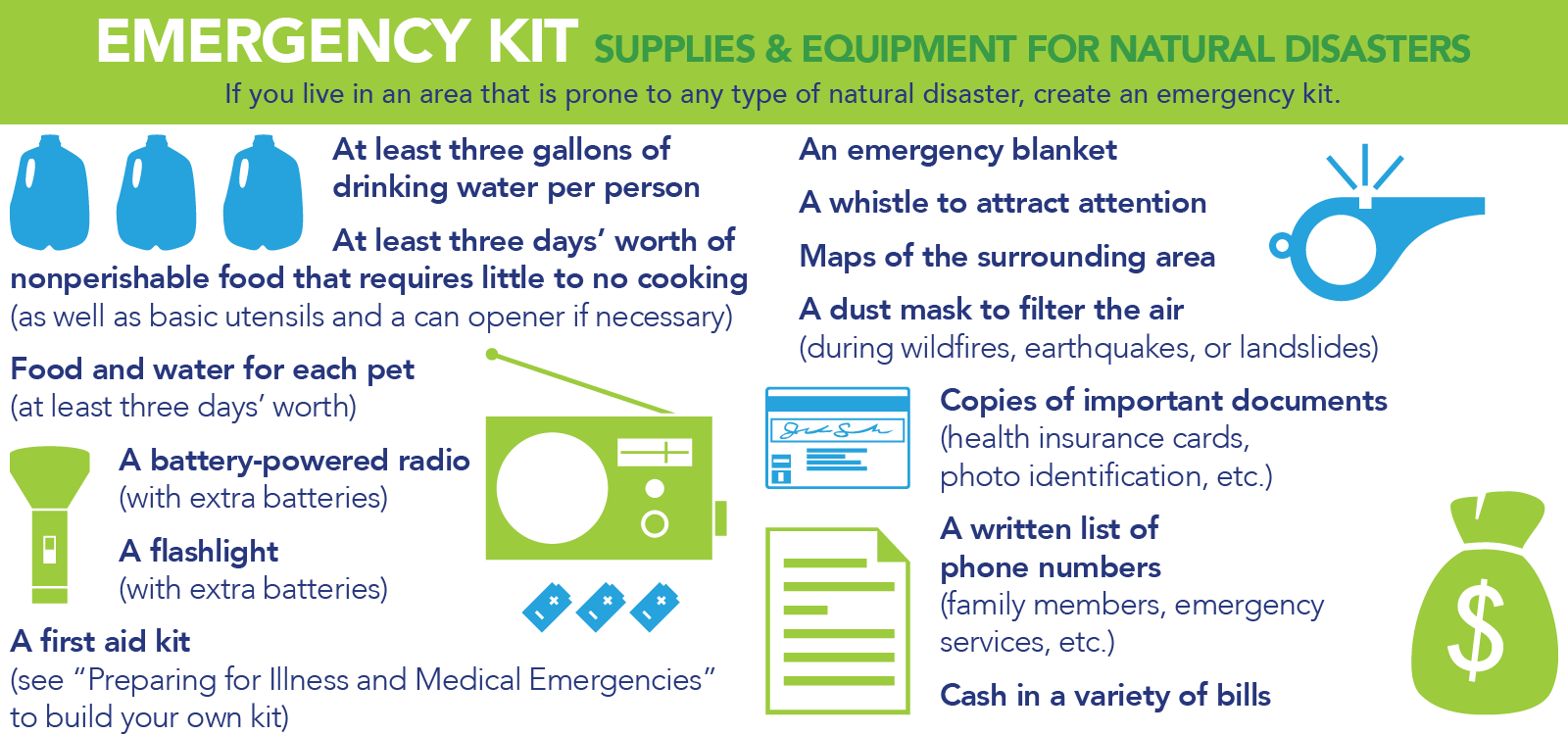 Depending on your location and the type(s) of natural disaster(s) you may be subject to, it may also be wise to include a complete change of clothing, extra warm clothes, sleeping bags, matches, and/or a fire extinguisher. If you take prescription medication or have a severe allergy, consider including extra medication or an EpiPen. The emergency kit should be kept in an easily accessible place in your dorm room or apartment. If you also spend time in your car, consider making two kits, just so you don't get caught off guard when you're driving.
Make a disaster plan.
Your plan is going to be different for different types of natural disasters. What you should do in a winter storm is much different from what you should do in an earthquake. Consider what types of natural disasters you may experience in your dorm or apartment and visualize how you would proceed if each were to occur. Find the places in your home that are the warmest (winter storm), the most secure (earthquake), the lowest room with no windows (tornado), etc. Remember that you always need an escape plan, too. Know what options you have if you were to get stuck in a room.
If you are instructed to evacuate, know who to call. A friend or family member who lives in the same city isn't going to be helpful because they'll be under the same evacuation order. Consider friends and family who live in another state and who would be willing to offer you a place to stay should you need to evacuate because of a fire, a hurricane, flooding, or another natural disaster. If you have any pets, make sure your friend or family member is willing to take them in for the duration of your stay as well.
Buy extra insurance.
It is always wise to get renters or homeowners insurance, but it is especially wise if you live in an area that often experiences natural disasters. When shopping for policies (particularly if you own your home), ask about specific types of insurance, like flood or earthquake. These are usually not included in a basic insurance policy. If you don't have disaster-specific insurance, you could be liable for the entire cost of any repairs.
For more information for how to prepare for various natural disasters, consider exploring Ready.gov, a government website dedicated to delivering information about emergencies, both natural and manmade, to the general public.
After a Natural Disaster
Check to see if you're physically okay.
Once the threat of a natural disaster or storm has passed, there are several things that will need to be done immediately. First and foremost, you want to make sure that you are okay. If you're injured, buried, or trapped, you will want to call for help. If you have access to your emergency kit, now is the time to use the whistle. If you still have access to a phone, call 9-1-1. If neither of those options is feasible, bang on a pipe or wall so that first responders will hear you. If you can get out, do so, but don't try to move if you are severely injured. Slight injuries are more manageable and can be treated with appropriate first aid, either self-administered or otherwise. Once you are safe and secure, check in with your family to let them know you're okay and make them aware of the situation.
Don't go home until you've been given the all clear.
If you evacuated, you should only return home after you've been given the all clear. Be extra careful when driving on roads that were formerly flooded. If there is still flowing water, turn around and find an alternative route. If the road has washed out, turn around. Avoid walking or driving through standing water, as downed power lines may have electrified it. If you see any downed utility lines while walking or driving, stay away from them, and call the utility company to report them as well. Taking unnecessary risks to get home can have tragic results. It's much better to have to walk or drive a little bit out of the way than to put yourself in danger.
Be careful when you enter your home for the first time after a natural disaster.
Going into a damaged building can also pose unique risks. If you are connected to a gas line, smell for gas; it may smell like garlic or rotten eggs. If the smell is present, and especially if you hear a hissing sound, get out of the building and call the gas company. Gas is highly flammable and can be explosive. If there is a water leak, it will likely be obvious. If you have access to a water shutoff valve, go ahead and turn the water off before calling your water company. After your home or apartment has been deemed safe or the utility companies have sealed leaks, you can re-enter and begin cleanup. If you have renter's insurance (which you should), take photos of the damage so that you can file a claim.
If your home is not habitable after a natural disaster, your school may provide alternate housing. This likely will depend on the severity of the storm, however, and you shouldn't rely on being handed housing. If the school itself is damaged, the institution will make alternative arrangements and keep you aware of if, where, and when you should be going to class. Staying with friends, family, or at a Red Cross shelter in the meantime will provide you a place to rest your head and recover from the disaster.
Practice self-care.
Natural disasters can be traumatic, stressful, and scary, and, depending on the scale of the disaster, the aftermath can be the same. Whether you have to file an insurance claim, move out of a now-uninhabitable house, or stay at an emergency shelter for a period of time, you need to take care of yourself. Neither your mental health nor physical health have to suffer in the long term. Eat healthy meals; talk to friends, family, and other disaster victims; and force yourself to spend time away from the news. If you find that your mental health just doesn't return to its pre-disaster state, consider talking to a professional.
The Substance Abuse and Mental Health Services Administration runs the Disaster Distress Helpline, which was specifically created to help individuals who are struggling after natural disasters, mass violence, infectious disease outbreaks, and community unrest. You can reach a trained counselor 24 hours a day, seven days a week, 365 days a year by calling 1-800-985-5990 or texting "TalkWithUs" or "Hablanos" to 66746. If you would prefer to talk to a counselor in a language other than English, call 1-800-985-5990 and press 2.
Page last updated: 03/2019